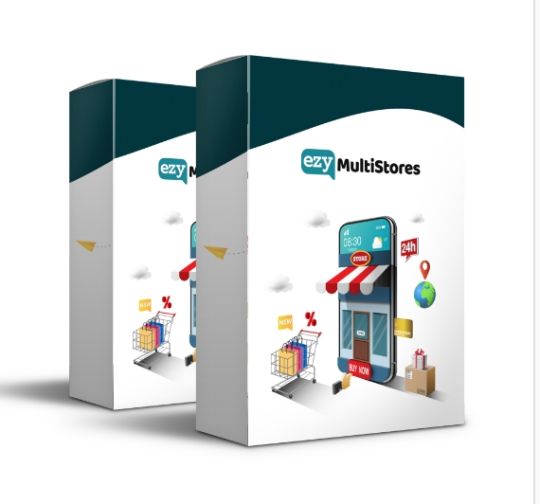 Ezy Multistores Software
Ezy MultiStores is the world's #1 eCommerce affiliate store builder that helps you to launch your own profitable eCommerce affiliate stores that sell hot-in-demand products and get 1000s of free buyers everyday!
Big online marketers do a lot of business on Amazon, eBay, Walmart, Bestbuy and Aliexpress, and earn massively. While they are earning so much, a lot of beginners are being frustrated. 
If you'd ever tried getting approvals from a marketplace like Amazon, AliExpress as a beginner, you'd know that over 90% of new affiliates are either denied access or even if they do get access, most of them have it revoked after 180 days. 

Luckily for you, with Ezy MultiStores, you will never have to face such harassment again!

Instead, you can now instantly activate an account on as many eCommerce affiliate networks of your choice, because if one of them "goes down" for whatever reason, you've still get 2 or 3 more cranking out auto-pilot commissions for you.

A Quick Glance At The Ezy MultiStores Features
Import Products From 5 Major Affiliate Networks
One-click import products (individually or in bulk) from multiple products at once from Amazon, Bestbuy, eBay, Walmart & Aliexpress, all encoded with your unique affiliate ID.
Create Multiple Store License
Allows you to create an endless stream of money-making stores, pulling in free clicks and passive sales every single day.
Search Autologger
Helps you see on the go what site visitors are searching on your website and import such products immediately.
Seamless integration with Email SMTP
Done-For-You Email Templates for a product out of stock, product back in stock, product custom price drop alert, product added to your wish list and product price dropped
Customer Wishlist Portal
Allows users to sort by discount or relevance, then create a 'Wishlist' account to add products to buy later.
Built-In VIP Email Notification System
For a price drop, Product out of stock, Product back in stock, Product custom price drop alert created, Product added to your wish list etc..
Custom Internal Product Search
Allows buyers to search by discount, relevance, newest, and more.
Social Syndication Price Drop Technology
Allows you to auto-post to Facebook and Twitter when the price drops for that product or when it's back in stock and available to buy.
Free Hosting
Free subdomain of your choice ex: mystore.Ezy MultiStores
Sell Hot-In-Demand Products
With Ezy Multistore App, you will be able to sell digital and physical affiliate products that are in high demand.
1-Click Import For 1000s Of Products
With the click of a button, you can import the digital products from the vendors offers, and add your affiliate links to sell for commissions.
Get Free Traffic From Affiliates 
Ezy Multistores app offers you the platform to host other affiliates and benefit from the traffic they generate.
Newbie Friendly 
This E-store app is newbies friendly, fully tested, no technical skills needed, no staff needed.  Every serious minded online income seeker needs this!!
 Price Autoscaling
Allows you to have the most up-to-date price and discount.
Video Content Engine
Allows you to curate and auto-publish unlimited relevant product review videos with your Ezy MultiStores product underneath.
Built-in Analytics
With seamless integration with Google Analytics & Facebook pixel
Profitable eCommerce Business Solution
Ecommerce has always been one of the most profitable online business models with lot of millionaires globally milking the niche. 
The only downside to e-ommerce until now beside the API approval limitation is that for beginners you need to get a subscription on a platform called Shopify or something similar which cost about 27 to 47 bucks on a monthly basis.
Fortunately, the idea with Ezy MultiStores is to give you access to your own eCommerce affiliate stores that come at a one time price.
Generate Profits With Ezy MultiStores Software
With Ezy MultiStores, you will be able to generate profits in 2 different ways: 
Create an e-commerce affiliate store and sell products from Amazon, eBay, Ali express. 

Create and sell these money-making stores at any price of your choice with the commercial license and pocket 100% of the profits 
Ezy Multistores Highly Congruent Funnel
Front End
Ezy MultiStores Elite - $29
oto 1
Ezy MultiStores Premium - $49
oto 2
50 DFY (Done-for-You) eCom Affiliate Stores - $149
oto 3
Ezy MultiStores Unlimited Traffic - $95
oto 4
150 licenses - $197, 500 licenses - $297 
oto 5
Unlimited licenses - $497